Wedding planning is a developing profession. As a wedding planner you will be the money manager, facilitator, organizer and artist. A wedding is an important part of the life cycle for the couple. Most of the wedding is exchange promise and ring. Different wedding has different wedding style. I am writing the introduction of our company that has made the wedding photography or videos and guide you on the many services provided by us. Our company specialize in professional wedding photography. We plan to expand further photography into bridal photo shoot, fashion photography, event photography, advertising photography. There are many services of a wedding planner are design and style of the event, wedding decor, preparation of the list of participants, planning a detailed checklist and other many services. We get enough information to get started without any commitment.

Outdoor wedding shoots in Lahore:
Wedding photography is the photography of events linking to weddings. Wedding photography is trending at this time. A wedding photographer taking a picture of the couple with their family. The wedding day is a very important day for every couple. Every couple tries a little bit to make their wedding day more special and outstanding for them. First of all, you have decided any fascinating location for outdoor shoot in Lahore then you decided any of the interesting and attractive view. Photo shoot is the most important part for each couple. In Lahore there are many beautiful places and monuments, but more specially arts from Mughal architecture. There are some wonderful locations for couple which are situated in Lahore:
Lahore fort
Badshahe Mosque
Bahria Town Mosque
Bahria Town Eiffel Tower
Baghe Jinnah
1- Lahore fort:
Lahore Fort is also known as the name of Shahi Qila which is located in the north-western side of Lahore. The art and architecture of the location create everyone charm about the superb pictures. The Mughal Jahangir he made built the castle. The fort establishes the rich traditions of the complete Mughal architecture. It is the most stunning place in the fort and is made beautiful by small mirrors of different colors sets. Couple captured picture in small mirrors by photographer. Lahore fort is the best location for wedding photoshoot in Lahore. It is a standard area for couple. Couples want to give Mughal effect in their wedding photography so it is the best location for them. At the time of the wedding, they feel like a king and queen. They feelings are very good at that time. Wedding couple photoshoot can be achieved in front of the royal households Pearl Mosque. And video highlights are also made in Lahore fort. It's always a pleasure to shoot in Lahore Fort.
2- Badshahe Mosque:
Badshahe Masjid is one of the most wonderful places for couple photography. The most favorite location of all wedding couple photoshoot of Lahore. It's beauty, history and rich culture is the perfect combination of features for a beautiful photoshoot. Every photographer has the dream shoot here. This mosque has lots of interesting areas for you. Even many couples embrace their nikkah ceremony in this mosque. A gorgeous wedding cinematography taken outside Badshahe mosque. It's views and location are protected with traditional and cultural environment. In this place the couple hold the frame together, and capture multiple shots from different angles. Each couple get a chance to pose in adabi style. A lot of people come to get photoshoot at Badshahe Mosque Lahore because this place is very attractive. Cuckoos' Den restaurants one of the oldest restaurant in the middle of the walled city in Lahore. Cukoos has one of the best views of the Badshahe Masjid. The Den has amazing rooftop views, paintings and sculptures. It is also the best amazing place for wedding photography.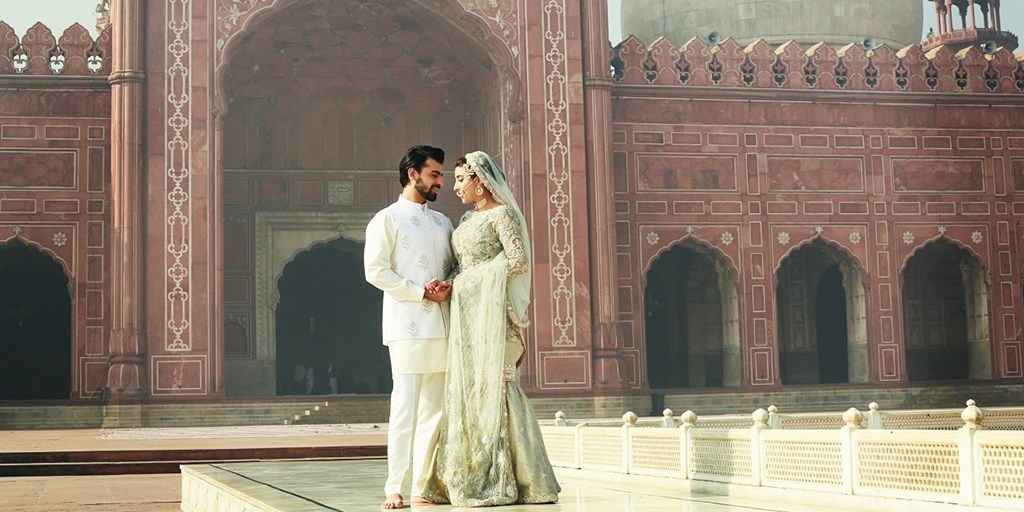 3- Bahria Town Mosque:
Bahria Town Mosque is surely one of the best place for wedding cinematography. Even couples go to the Bahria Town Mosque for their wedding photoshoot. It is the third largest Mosque in Pakistan. This mosque is very pleasant. Before wedding photoshoot, you need get permission. Even that some couples make videos and pictures outside the Masjid. You have must to go on till 12:00 or 2:00 PM in the evening. More Nikkah's photoshoot are in Bahria Town Mosque because this Mosque is very beautiful and gorgeous. In this place, couples hold a typography prop is an easy manner to take a unique photo and also try different poses and different angles to find a fun look.
4- Bahria Town Eiffel Tower:

This is the fourth place; we have this dreamy location and views for couple. We cannot go Paris, France for our wedding couple shoot so we can get feel over here. Bahria Town Eiffel Tower is a sign of affection and love. In addition of couples many people come here for photoshoot. It is the best place to get your shoot done over here. Some wedding couples are excited for wedding couple shoot at Eiffel Tower. Because its view is very fantastic and as a look like Paris Eiffel tower. Eiffel Tower views is very fantastic and wonderful in the picture. Some couples are also made video highlights Ahead of the Eiffel Tower.
5- Baghe Jinnah:

We cannot forget about this location Baghe Jinnah. It is one of the peaceful location and you feel a lot of cool and relaxing environment over here. Many couples come here instead of going to another place because this place is very peaceful so that they can capture these memories of their wedding. It is a best location for wedding couple shoot. Some couple takes pictures from different styles. Jinnah garden is the perfect background for a dreamy and outstanding photoshoot. Very good views come from Baghe Jinnah. This place is surrounded with the richness of the greenery.
Basically this pictures are capture by Cam studio. They are professional and they are skillful and also they have very good ideas for wedding couple photoshoot. They do their work very well.